Effects on human beings
As a human being, you have a 'daily body clock' or circadian rhythm (animals have this too). Your temperature, heart rate, blood pressure and mental ability are synchronised so that they are higher during daylight hours than at night, when the body is prepared to sleep and recover from the day's activities. Even if the normal influences of day and night are taken away, such as natural light and knowledge of the time, this internal clock still works and operates a cycle of between 22 and 25 hours.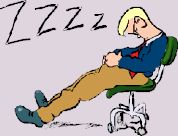 We all need a period of undisturbed sleep to keep our health and well-being. An adult human needs about 8 hours' sleep per night, although there are big variations between individuals. How many hours of sleep do you and your friends need (honestly!)? Is it the same as adults that you know? There may well be a difference as length of sleep needed is mainly down to your age. A baby needs 15-17 hours of sleep every day during its first six months, but old people sleep less and less and it is often broken up into short naps.
Night workers often suffer from disturbed daytime sleep, which may be due to increased noise, but it is more likely due to the body just not being ready to sleep during the day. This lack of good quality sleep among night workers can lead to chronic fatigue, which can be shown as tiredness, irritability and depression. They may also suffer from loss of appetite and digestive problems. These symptoms quickly disappear when they return to normal work and sleep patterns.
Workers on late or night shifts often feel isolated from their family and friends because they are working when others are socialising. Family life can be difficult.
About two-thirds of shift workers suffer from some kind of ill-health, and about one-quarter have to give up shiftwork because of major health problems.
There is no single, optimum shift system. The design of a shift systems is usually driven by a number of factors, including legislation about daily working hours and the Working Time Directive, and agreements among the workforce. The most important requirements from a human point of view, is that loss of sleep should be as little as possible, and there should be enough time for family and social contact.